No April Fools' Day jokes here, because they are stupid. Refer to this tweet for more info. Remember, for every April Fools joke you play, God beats up an angel.
I decided to buy a Kindle this week, after lusting for one for approximately the last 2628472 weeks. I bought the cheap one because I wasn't sure the touchscreen/built in 3G was something I'd want to pay for. Am I really going to be out somewhere (with my Kindle) and just HAVE TO download a book right then and there? I'd just do what I've always done: take a picture of it on my iPhone and then go get it at the library after. Just do that discreetly. You can probably imagine why.
I bought it on Tuesday, and I've already read 2 books. (I completed the Hunger Games trilogy) It's comfortable to hold, the lack of a backlight makes it super easy on your eyes, and I haven't had to charge it yet. It is an outstanding piece of technology. I have a friend who has a Kobo, and it seems pretty equivalent. I went with the Kindle because of the massive selection in the store, since they make it so easy for self-publishers to access the store.
Just a quick programming note. Now that I'm free of all my staff writing responsibilities, I'm going to be expanding content around here. I used to try for a Monday-Wednesday-Friday-Weekend Dump posting schedule, one I pulled off maybe half the time, mostly because I'm lazy. Now that I have more time, you're all going to be treated to 5 posts a week. (Monday-Tuesday-Thursday-Friday-Weekend) Try not to jump up and down in excitement, you'll piss off your neighbors.
Song I Like And Therefore You Should Too
Sometimes, on like Wednesday, I'll listen to an awesome song and think "self, this would be perfect for the Sunday Morning Dump. Remember this." Guess how often I actually remember the song. 3.4% OF THE TIME.
http://www.youtube.com/watch?v=DShM6rQuNNM
Billy Talent is kind of a big deal in Canada, but you Americans have probably never heard of them. Yes, them. It's 4 guys, but they call themselves Billy Talent. It's a solid band name. NO, YOU'RE STUPID.
Simpsons Quote
Homer (singing): When I was 17,
I drank some very good beer.
I drank some very good beer
I purchased with a fake I.D.
My name was Brian McGee,
I stayed up listening to Queen,
When I was 17.
Gambling Is Fun
1-2 last week. That would be a lot more depressing if I cared.
Kentucky has opened as a 6.5 point favorite over Kansas, and I am going to pound the hot team like a virgin on his wedding night. I bet at least one blog reader from that part of the States will be happy with that pick. The MLB season starts this week, with the St. Louis Cardinals visiting the new Marlins stadium in Miami. I'm going to take the Fish to win that one, straight up. Finally, I'm going with the over (5 goals) in the Bruins/Rangers game.
Overall record: 30-37-2
A Post You Might Have Missed
What's that? You've already read them all? TOO BAD GO READ THEM AGAIN.
Back in 2010, when I could barely string consecutive sentences together, I did a post titled What The NHL Salary Cap Can Teach You About Personal Finance. I like sports. I like money. I especially like to combine them.
The More You Know
Wiki means random and pedia means pedia. NOW HIT ME.
Yasuhito, Prince Chichibu of Japan, GCVO (秩父宮 雍仁 Chichibu no miya Yasuhito Shinnō?, 25 June 1902 – 4 January 1953), also known as Prince Yasuhito, was the second son of Emperor Taishō and a younger brother of the Emperor Shōwa. As a member of the Imperial House of Japan, he was the patron of several sporting, medical, and international exchange organizations. Before and after World War II, the English-speaking prince and his wife attempted to foster good relations between Japan and the United Kingdom and enjoyed a good rapport with the British Royal Family. As with other Japanese imperial princes of his generation, he was an active-duty career officer in the Imperial Japanese Army. Like all members of the imperial family, he was exonerated from criminal prosecutions before the Tokyo tribunal by Douglas MacArthur.
On a somewhat related topic, I hear white guys do very well with Japanese girls over in Japan. Can anyone confirm or deny this?
Dirty Word In Words With Friends
Melissa Wilson played 'tits', while real life friend Dana played 'piss'. I'll leave it up to you to determine which word is dirtier.
If you want to play me, my username is 'nelsmi'. There's like 12 people playing me. JOIN THE PARTY.
Babe Loosely Related To Finance
It was national cleavage day on Friday. How many of my Twitter followers sent me pictures of their cleavage? NONE. YOU ALL SUCK.
So I started thinking about who had some impressive cleavage. Katy Perry came to mind.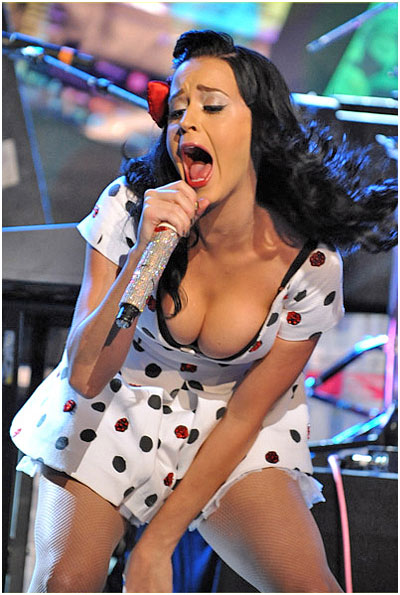 She's clearly crazy, but I could have a lot of fun with those things before I'd be forced to get a restraining order.
Time For Links
Even though Don't Quit Your Day Job decided on an April Fools joke post, I'm going to let their bad decision slide and give them the coveted top spot. PK took a look at gambling statistics in Canada, and once again discovered a correlation between higher incomes and gambling activity.
My BF (or is it BFF, I always get those confused) JT wrote 1500 words explaining the ins and outs of share repurchases. I vowed to write a competing post about share repurchases, but my short attention span ensures JT will get all the glory for this one.
Len Penzo writes a post called The Costly Joys of Maintaining Older Cars and turns it into an ode to driving a fully paid for older car. My 2002 Ford Focus agrees with you Len, even though it doesn't like to start in cold Canadian weather.
The fine folks at Sustainable PF lost their dog recently. No jokes about this one. Go read Simon's touching tribute.
One of my internet girlfriends, Young and Thrifty, has a bit of a hard-on over online promo codes. I remember to look for promo codes maybe 40% of the time I buy stuff online, because I'm a forgetful moron 60% of the time.
My other internet girlfriend, Sandy from Yes I am Cheap, points out that generic products are often the exact same at name brand products in the grocery store. As a former grocer, I've known this for years.
My Own Advisor gave away a copy of Derek Foster's new book, The Wealthy Boomer. You're too late to enter, but not too late to read Mark's review of the book.
My last piece ever at Canadian Finance Blog, at least until I email Tom in about 6 weeks begging for my old staff writing gig back. It's called 6 Ways To Save Thousands on Your Mortgage.
Carnivals
YES! Okay, no.
Have a good week everyone.
These are better than the crap you're currently reading