This week's dump sponsorship: Paying too much for Car Insurance? Find Cheap Car Insurance Quotes Online from major carriers such as Geico, Progressive, State Farm and more at www.CheapQuotesDirect.com.
I know why you'll all here today. You care very little about my witty content and Nelsonisms, because all you want to know is who won the copy of Millionaire Teacher. I think you all should learn more patience, especially when it comes to dealing with the biggest tease on the whole internet. I'll get to it. First, more preamble.
I've narrowed down my New York hotels to two choices: a Super 8 that gets terrific reviews and a Sleep Inn that gets pretty good reviews, but is $30 per night cheaper (if I book a non-refundable room). Both are located near the subway, and in seemingly good areas of Brooklyn. Both are in good shape, and neither have any reports of bedbugs, which have to be the creepiest things ever. Both also offer exercise areas (like I'm going to work out in New York) and free continental breakfasts. Both seem like pretty solid options.
As I typed out that last paragraph, I realized I'm probably being altogether too anal about this whole thing. It's just a hotel room, over 5 nights of my life. It isn't going to be that big of a deal. Do I have any readers in New York City? Maybe I could just sleep in your bed. You can share it with me, assuming you are female and at least moderately attractive.
Onto to the book giveaway. There were 24 comments, which yielded 22 entries. There were also 7 new (or existing) Facebook likes, meaning 29 separate entries. I listed all the entries in a spreadsheet, starting with the comments, and then finishing with the Facebook likes. Meaning, if you had the second comment and first like, you got entry numbers 2 and 23. Confused yet?
And the winner is:
NUMBER 25 – Jordann from My Alternate Life.
Congrats to Jordann for winning, but my condolences for the weird-ass spelling of her name. (Also, Jordann is a girl and she has a boy's name. Let's all laugh at her.) I will be contacting her shortly, and I will probably slide a picture of my penis into the book somewhere. You knew that was coming.
Song I Like And Therefore You Should Too
A little cheesy 80s rock? DON'T MIND IF I DO.
This song spends quite a bit of time talking about sexually transmitted diseases, which bums me out a little, but that's okay. It's still a pretty rockin' song.
Simpsons Quote
Chief Wiggum: This is Papa Bear. Put out an APB for a male suspect, driving a…car of some sort, heading in the direction of…you know, that place that sells chili. Suspect is hatless. Repeat, hatless.
Gambling Is Fun
Excellent, another 2-1 week, thanks to a last minute 3 pointer from some Oklahoma City player I'm too lazy to look up. Well done, whoever the hell you are.
I'm going to continue my streak of picking the exact opposite of what I think is going to happen, because I clearly know nothing about sports, as my overall record indicates. I'm going to start out with England over France in Euro 12 action, because England is incredibly overrated. I'm going to take the Mets over the Yankees, even though the Yankees are the vastly superior team. And to round out my picks, I'm going with the Royals over the Pirates.
Overall Record: 39-51-3
A Post You Might Have Missed
It's cute to look back at my old posts and see how devoid they are of inappropriate penis jokes. It's almost quaint.
About a year ago, I wrote a post called Are Experiences The New Stuff? Basically, the exotic trip you've gone on has now replaced your fancy TV or whatever as a status symbol. Aren't those people who constantly try to one-up each other with their travelling stories annoying? I sure think so.
The More You Know
Apparently there's a service where you can pay somebody to put your biography/company's history on Wikipedia. I totally want to create a Wikipedia page filled with all sorts of outlandish lies.
The disengagement theory of aging states that "aging is an inevitable, mutual withdrawal or disengagement, resulting in decreased interaction between the aging person and others in the social system he belongs to".[1] The theory claims that it is natural and acceptable for older adults to withdraw from society.[2] The theory was formulated by Cumming and Henry in 1961 in the book Growing Old, and it was the first theory of aging that social scientistsdeveloped.[3] Thus, this theory has historical significance in gerontology. Since then, it has faced strong criticism since the theory was proposed as innate,universal, and unidirectional.[4]
You know what else happens when you get old? You can't get a boner anymore. I hope I die young.
Dirty Word In Words With Friends
Friend of the blog Joelaw delivered again, playing whores. Joe obviously enjoys whores, and I can't say I disagree with his life choices.
If you want to play me, my user is nelsmi. It'll be more fun than Joe and a room full of whores.
Babe Loosely Related To Finance
Considering it's Euro 12 time, let's go with a soccer theme. (Aside: in North America, it's called SOCCER. NOT FOOTBALL. Get it right people.)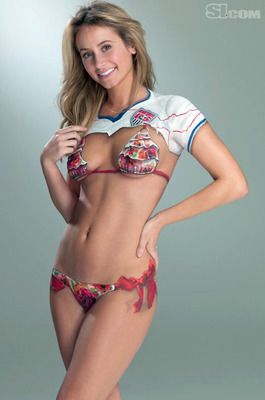 This is Bethany Dempsey, wife of team USA player Clint Dempsey. She also isn't actually wearing clothes, that's body paint. Well done Clint.
Time For Links
Every month, Control Your Cash does the (Financial) Retard of the Month. It's usually pretty good, but May's RotM exceeded all others. It makes fun of The Simple Dollar, which you know I'm a fan of. Go read now.
No word on whether Andrew Hallam is going to blow all his money on strippers and drugs in preparation for his second book (the working title is I Used To Be A Millionaire Teacher). In the meantime, enjoy Andrew's post on the pitfalls of investing in IPOs in general.
Weakanomics looks at the problems at JC Penney, and how they're trying to sell things like Apple. It's more interesting than literally anything in the history of ever. I exaggerate nothing.
JT McGee has a good piece on investors chasing returns, and how passive investors just might be more likely to do this than active investors. Also, I'm pretty sure he wasn't alive for all of the 1990s.
A very interesting article from The Economist about the ways companies get information on their customers. Interesting stuff. Did I mention it was interesting? Because it is.
Canadian Dream reviewed one of my favorite investing books, The Contrarian's Investor 13 by Benj Gallander. My man crush on Benj is already well documented. Just search my archives.
And finally, Well Heeled Blog asks if travelling is the new status symbol. It sure is, my shoe obsessed friend.
Carnivals
I was in like 14 imaginary carnivals.
Have a good week everyone.
These are better than the crap you're currently reading