And no, I'm not talking about my ass. That's pretty hot too though. And hairy. STOP LOOKING AT IT.
I swear, Canada is either too hot or too cold. How does one part of the world go from minus 40 degrees (all measurements in Celsius, you  backwards Americans) to plus 40 in the span of one year? We have nice weather for approximately 52 minutes a year, where it's WAY THE HELL TOO HOT. Weather is stupid. I'd move to California and it's delightful 22 degrees all year long, except that state is filled with violence, high real estate prices, a state government that's basically broke, the constant threat of earthquakes, and Len Penzo. Each of those things is worse than the last.
This link dump is taking much longer than usual because I'm watching the Wimbeldon men's final. The match is tied at 1 set apiece as of this moment. It's a really compelling final, as Great Britain's Andy Murray is looking to become the first guy to win on home soil in approximately 182 years. Meanwhile, Roger Federer is looking to become the oldest winner in the history of the tournament. Which should I cheer for?
I know. It'll cheer for the one with the hottest girlfriend. First up, Roger's.
Okay, not bad. Roger probably could have done better, but she's still pretty hot. How about Andy Murray?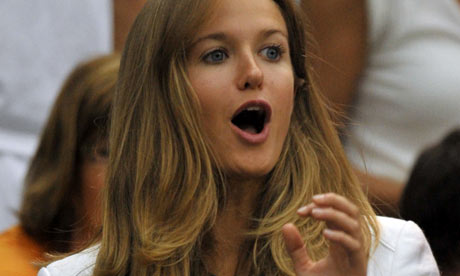 We have a winner. GO ANDY MURRAY!
Song I Like And Therefore You Should Too
I discovered this song a few days ago. I've listened to it a handful of times since, and I still can't figure out what the hell they're talking about.
Still, it's catchy as hell though.
Simpsons Quote
T.V. Announcer: It's 11 o'clock, do you know where your children are?
Homer: I told you last night. No!
Gambling Is Fun
Thanks to the stupid Montreal Alouettes, I went 1-2 last week. That's what I get for betting on the French.
Sticking with the CFL, I'm going with the Edmonton Eskimos plus the 4.5 points against the Saskatchewan Roughriders, since I like betting against all things from that screwy province. I'm also going to go with the American League to win Tuesday's All-Star game, since it's fun to bet on an all-star game. Finally, I'm taking the over (6.5 runs) for the Seattle Mariners/Oakland A's game today, since Oakland's starter, Bartolo Colon, is fat.
Overall record: 44-58-3
A Post You Might Have Missed
I'm impressed any of you read my archives at all, considering only like 33% of my old posts have pictures of hot chicks. I assume that's the only reason any of you stick around at this point.
Playing the lottery is a colossally dumb idea. The odds are stacked against you, and the only winner is the government who administers the thing. Still, there's one incredibly dumb reason people list when they talk about not playing the lottery, which is that they don't actually want the money.
The More You Know
Apparently there are people out there who have set their homepage as the random Wikipedia page. That's all fine and good, but let me tell you a little secret about the random Wikipedia article. If I picked the first one I found every week, it would just be some 2 sentence crap about some little village in the Ukraine. It takes a few clicks to find something interesting.
"The Greatest Man That Ever Lived (Variations on a Shaker Hymn)" is a song released as an iTunes single from American alternative rock bandWeezer's sixth album, Weezer (2008). The song bears a resemblance to the Shaker song "Simple Gifts" hence the "(Variations on a Shaker Hymn)" in the title. According to lead vocalist and writer Rivers Cuomo, "The Greatest Man" has 11 different themes, including rapping and imitations of other bands such as Nirvana and Aerosmith (both of whom also recorded for Weezer's then-label Geffen Records at one point).
This song received favorable critical reviews. After being announced as the third single, a music video was also announced; however, this never materialized and instead the song was featured in a film directed by Warren Miller.
I like this song and I like Weezer, but seriously, 11 different influences? Stop taking yourself so damn seriously, Rivers.
Dirty Word In Words With Friends
The best played against me was 'peed' which is barely dirty at all. I clearly need more perverted opponents.
If you're a dirty, dirty, person, my user is nelsmi. And hell, even if you're not, you're still welcome to come play me.
Babe Loosely Related To Finance
Three different hot girls in the same blog post? I'LL ALLOW IT.
In honor of the upcoming Olympics, the next few weeks of sexy ladies will all be Olympic athletes. First up, Stephanie Rice from the land down under.
I would lick Vegemite off every inch of her, and I think Vegemite tastes like dead puppies.
Time For Links
I know I link to Control Your Cash damn near every week. You're probably getting tired of it. To be honest, I'm getting a little tired of it. But, on Friday, I think they published the best piece of satire in the history of the internet. You go read now.
This is the second weekly roundup I've done this week, Len Penzo was nice enough to ask me to write this week's edition of Black Coffee, even though I made fun of him earlier in this post.
That's about it. There's a bunch of links over at Penzo's that I thought were pretty good. I'm too lazy to repeat them here.
Carnivals
(fart noise)
Have a good week everyone.
These are better than the crap you're currently reading